Join Us
There's always cause for celebration at Robert Hall Winery!
Bring your friends and join us for one of these fun events:
---
August 2016
Wine Aroma Sensory Station every day in August
10:00 AM to 5:00 PM
Mon, Aug 1, 2016 - Wed, Aug 31, 2016
Venue:
Tasting Room 3443 Mill Road Paso Robles, CA 93446
Contact:
Chris 805.239.1616 ext 25,
Tastingroom@roberthallwinery.com

Every day in August you can test your nose with our wine aroma sensory station. Wine taste afterward to see if you can identify the aromas in our wines. You'll be amazed at the number of aromas your nose can detect!
October 2016
Friday Salt Lick BBQ Happy Hour with live music by Bear Market Riot
5:00 PM to 7:00 PM
Fri, Oct 14, 2016
Venue:
Robert Hall Winery Terrace 3443 Mill Road Paso Robles, CA 93446
Contact:
Christina 805.239.1616 ext 20,
cavernclub@roberthallwinery.com

Join us Friday for a special Happy Hour event featuring the Salt Lick Restaurant
from Driftwood Texas. You'll receive a plate of appetizers and a glass of wine as you enjoy live music on the Terrace performed by local artists -
Bear Market Riot. The outdoor bar will be open with wines by the glass or the bottle. Legendary pitmaster and restaurant owner, Scott Roberts, will be signing Salt Lick cookbooks. Try the appetizers and you'll want to buy the cookbook so you can enjoy the full Salt Lick BBQ experience!
Menu
Brisket Slider
Chicken Diablo
Pulled Pork Bruschetta
Caprese Salad Skewer
Smoked Sausage
Glass of Robert Hall Wine
$20/person for Club Members, $25/person for Non-Members
Reserve your tickets today! 805.239.1616
Saturday Salt Lick BBQ Dinner (Texas Style) with Live Music by Monte Mills and the Lucky Horseshoe Band
5:00 PM to 9:00 PM
Sat, Oct 15, 2016
Venue:
3443 Mill Road Paso Robles, CA 93446
Contact:
Christina 805.239.1616 ext 20,
Cavernclub@roberthallwinery.com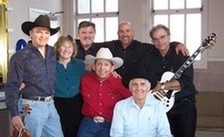 Texas legendary pitmaster, Scott Roberts of The Salt Lick restaurant, will be cooking a feast for our Harvest Festival guests. Join us for dinner and see why his slow cooked BBQ, smoked on an open pit, has put Driftwood, Texas on the map for all BBQ connoisseurs in the nation. He'll be making an assortment of appetizers like Brisket Mushroom Caps, Shrimp Diablo, and Brisket Nachos.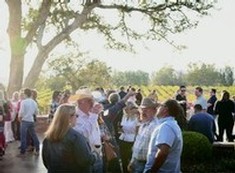 For dinner- brisket, sausage, pork ribs and chicken will be bar-be-qued on an open pit and smoked and served with his signature sauce. There will be a fresh selection of sides – potato salad, slaw, beans and bread. Ending with his special peach cobbler and ice cream. The dinner will be paired with Robert Hall wines and served buffet style. Legendary local band Monte Mills and the Lucky Horseshoe will be performing live through the evening, so bring your dancing shoes! Cocktail Hour on the Terrace 5-6pm. Buffet Dinner in the Amphitheater 6-8pm.
Club Members - $65 per person
Club Table (for 8 people) - $500
Non-Members - $85 per person
Non-Member Table (for 8 people) - $600
Call to reserve your tickets today! 805.239.1616