Join Us
There's always cause for celebration at Robert Hall Winery!
Bring your friends and join us for one of these fun events:
---
February 2016
Sweets For My Sweet - Valentine's Weekend Truffle Pairing
10:00 AM to 5:00 PM
Sat, Feb 13, 2016 - Sun, Feb 14, 2016
Venue:
3443 Mill Road Paso Robles, CA
Contact:
Jennifer Jansen 805.239.1616 ext 13,
tastingroom@roberthallwinery.com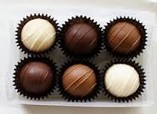 Grab your honey, your partner, your BFF, your sister, your brother, your mother, your daughter, your father, your son…you get the picture, just grab a special someone and join in on the yummy fun!
Enjoy a decadent offering of 3 gourmet, hand-crafted chocolate truffles infused with and paired alongside of our incredible dessert wines.
$10.00/"couple" includes 3 large truffles to share, and dessert wines for each individual. Additional (non-dessert) wine tasting fees may apply.
March 2016
Vintage Paso Weekend - Gourmet Cavern Tours
11:00 AM to 2:00 PM
Sat, Mar 19, 2016
Venue:
Tasting Room 3443 Mill Road Paso Robles, CA 93446
Contact:
Jennifer 805.239.1616 ext 25,
tastingroom@roberthallwinery.com

Take a tour of our wine cavern with the added bonus of gourmet bites paired with our wines along the way! Four wines will be sampled and the delicious pairings will be created by Trumpet Vine Catering. $25 for non-members, Complimentary to Club Members (please call for reservations). Please specify the time you wish to take your tour (11am, 12pm, 1pm, and 2pm).
April 2016
Wine 4 Paws Weekend
10:00 AM to 5:00 PM
Sat, Apr 9, 2016 - Sun, Apr 10, 2016
Venue:
Our Tasting Room and other wineries throughout the Central Coast
Contact:
Woods Humane Society (805) 543-9316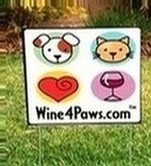 Join us on this special weekend as we and other wineries on the Central Coast help raise funds for the animals at Woods Human Society. Enjoy our wines while supporting a great cause - a portion of the proceeds will be donated to Woods!
No advance tickets are needed. You can get your free map and passport at http://www.woodshumanesociety.org/news-and-events/wine-4-paws.php (print just prior to the event) or grab one at any participating winery during the event.