The Essence of Paso Robles
Robert Hall Winery is situated in the Paso Robles appellation. Paso Robles is located 20 miles inland from the Pacific Ocean, literally halfway between Los Angeles and San Francisco. We are in the center of the Central Coast wine region which spans from Monterey County in the north to Santa Barbara County in the south. The climate and diverse Hall Ranch vineyard soils provide optimal growing conditions for warm region varietals, especially our late season reds. Hot days end with
coastal breezes that flow over the Santa Lucia Mountain Range to cool the vineyards in the evenings, delivering near perfect growing conditions that allow our reds to reach optimal maturity, yielding full bodied-- intense color red wines with incredible phenolic structure.
Robert Hall Vineyards & Winery
Certified Sustainability in Practice

In 2008, Robert Hall Winery achieved Certified Sustainability in Practice (SIP) tm standards
which entailed an independent third party audit of the vineyard and winerys practices by our industry peers. As true stewards of the land, environmental sustainability is practiced to conserve our
earth's natural resources.
Measures practiced at Robert Hall Winery include:
• Solid & Hazardous Waste Reduction
- Recycling of all packaging materials.
- Use of "green friendly" shipping materials.
- Use of an ozone system for barrel sterilization.
and overall soil quality.
- Use of Bezaritti & Sunflower for mechanical in-row weed control without pesticides.
• Energy & Water Conservation
- Recycling & treatment of waste water for vineyard and landscape irrigation.
- Reduced water usage thru high pressure/low volume cleaning equipment & self-cleaning presses.
- Reduced energy usage for cooling tanks by use of refrigeration jackets.
- State-of-the-art winery with natural cooling system of automated louvers which open each night, drawing in fresh maritime air to cool the winery & 19,000 square feet of underground wine caverns.
• Resource Management
- Preservation of native oak trees on the Hall Ranch.
- Protected habitat for wildlife.
• Green Farming Practices
- Use of natural pumice, diatomaceous earth & organic compost "tea" in the vineyard.
- Use of beneficial insects & permaculture gardens.
- Use of cover crops, like barley, to decrease soil erosion, build soil structure, organic matter and overall soil quality.
Use of a Bezaritti & Sunflower for mechanical in-row weed control without pesticides.
For more information on the Certified Sustainability in Practice (SIP)tm, please visit:
www.vineyardteam.org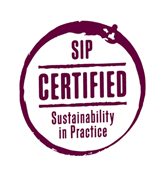 Robert Hall Winery achieves Certified Sustainability in Practice


Learn More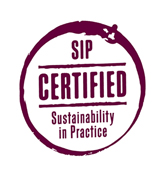 Robert Hall wines featured in
Green Guide click here